Raspberry & Coconut Granola Muffins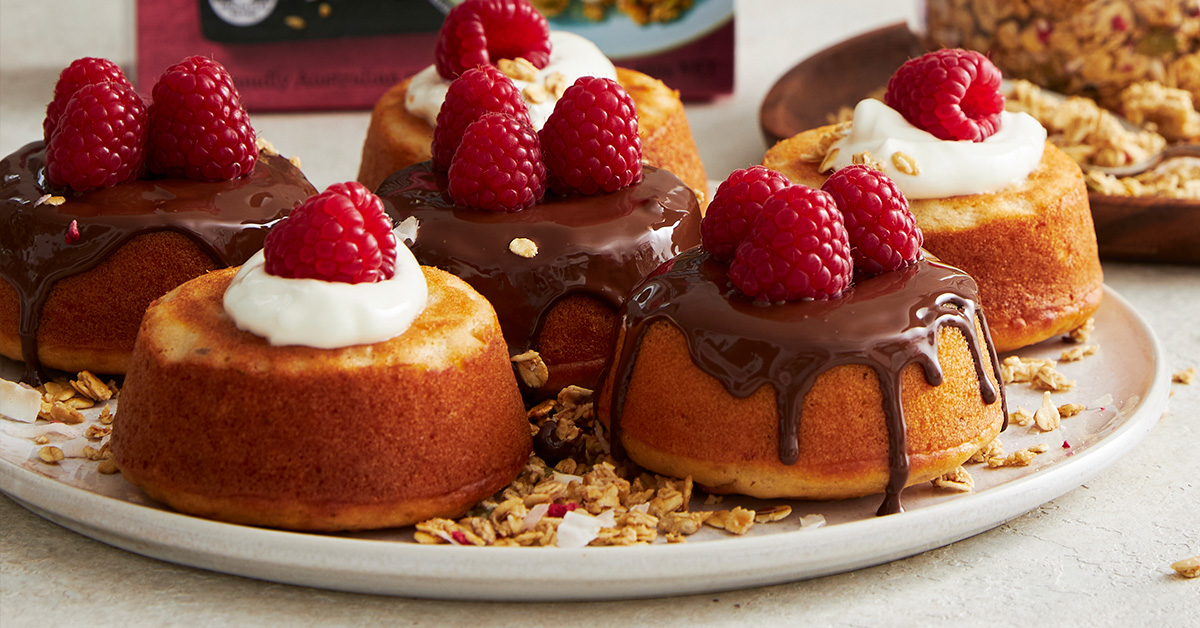 Ingredients
Muffins:
1/2 cup Carman's Low Sugar Raspberry & Coconut Granola
1 1/2 cups Self-raising flour
1 tsp Baking powder
1/2 cup Vanilla-flavoured natural yoghurt
1/2 cup Coconut milk
50g Unsalted butter, melted
2 Eggs, beaten
2 tbsp Maple syrup
1 tsp Vanilla bean paste
Zest of 1 lemon, finely grated
100g Dark chocolate, broken into small chunks (optional) you can also use thick yoghurt instead
Raspberry Filling:
125g Fresh raspberries, plus extra to serve
1 tbsp Maple syrup
Method
Preparation time: 10 minutes
Cooking time: 30 minutes
Serves: 6 muffins
Bet you've never used granola like this before! These moreish muffins are a delicious treat any time of the day – perfect for morning tea, lunchboxes or an afternoon snack. Recipe by Marion's Kitchen.
To make the raspberry filling, add raspberries and maple syrup to a small saucepan and place over a low heat. Bring to a gentle simmer, then lightly crush the raspberries and remove pan from the heat. Set aside to cool.
Preheat the oven to 170°C (340°F). Meanwhile, line a 6-hole muffin pan with rounds of baking paper.
To make the muffins, mix together the Carman's Low Sugar Raspberry & Coconut Granola, flour and baking powder in a large mixing bowl. In a separate bowl, mix together the wet ingredients: yoghurt, coconut milk, butter, eggs, maple syrup and vanilla paste, along with half a cup of water. Next, add the wet ingredients to the dry ingredients, along with the lemon zest. Mix until well combined. Divide batter evenly among lined muffin holes.
Transfer muffin tray to the oven. Bake for 20 minutes, or until golden brown and a skewer comes out clean when inserted in the centre.
Remove tray from the oven and place a chopping board or tray on top of the muffins. Using a tea towel to protect your hands from the warm tray, flip the muffins over so that their tops become the bottoms. Allow to cool in the tin.
Once the muffins are cool to the touch, use a small knife to cut out a 3cm (just over 1") diameter hole in the centre of each muffin without breaking through the whole way. Fill with the raspberry filling.
Transfer chocolate pieces to a large microwave-safe bowl. Microwave for 3 minutes or until just melted, then stir until smooth. Spoon a small amount of chocolate on top of filled muffins (or, if you prefer, dollop over thick natural yoghurt instead). Sprinkle with extra granola, if desired, then top with fresh raspberries and serve.