Gluten Free Blueberry Muffins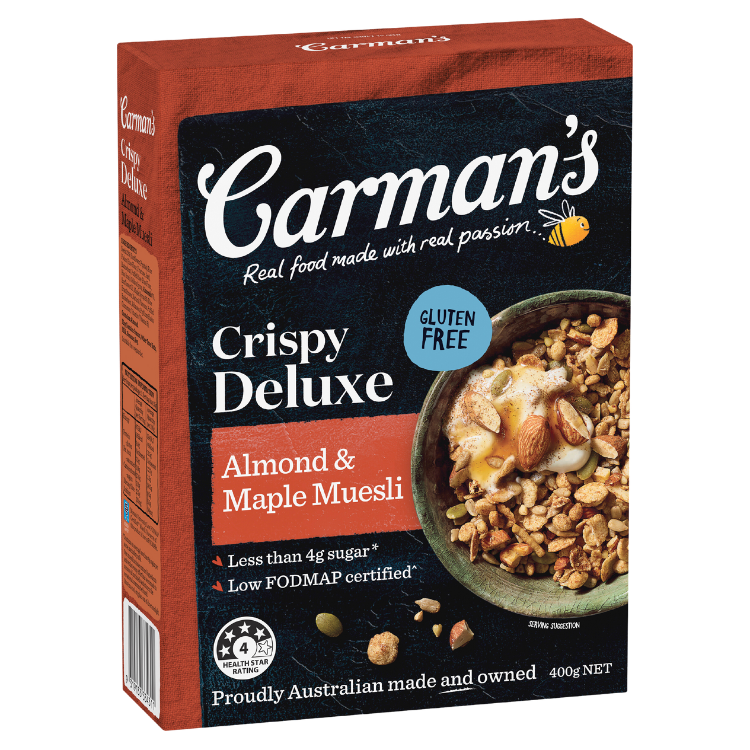 Ingredients
225g butter, room temperature, plus extra for greasing
300g caster sugar
6 extra-large eggs (60g each)
350g gluten-free plain flour
1/2 tsp bicarbonate of soda
250g Greek yoghurt
2 tsp vanilla bean paste
200g blueberries
150g gluten-free plain flour
100g cold butter, chopped into small pieces
2 tbsp brown sugar
100g Carman's Almond & Maple Gluten Free Muesli
icing sugar to serve
Method
Preparation time: 15 minutes
Cooking time: 25 minutes
Serves: makes 12 large muffins
To make crumble, combine all ingredients (including the Almond Maple Gluten Free Muesli) in a bowl and use clean fingers to rub the butter into the mixture, until there are no large chunks of butter and the flour resembles fine breadcrumbs.
Preheat oven to 180ºC (160ºC fan). Grease a jumbo muffin tin with butter.
Use a stand mixer or handheld beater to beat butter and caster sugar together until pale and fluffy.
Add the eggs, one at a time, whisking each one in with a tablespoon of the flour. Use a spatula to fold in the remaining flour and bicarbonate of soda, then gently fold in yoghurt, vanilla bean paste and blueberries until combined.
Divide half the mixture evenly between the holes of the muffin pan. Sprinkle the tops of each with a generous tablespoon of the crumble mixture. Bake for 25-20 mins until light golden in colour and a skewer inserted into the centre comes out clean. Allow muffins to cool in pan for 10 mins before turning out and cooling completely on a wire rack.
Clean muffin tin, grease with butter then repeat with remaining batter and crumble.
Lightly dust cooled muffins with icing sugar to serve.
Reviews
Just made the first (of what will be many) batch of these beautiful muffins, using my home grown blueberries 😊 But even without the benefit of my blueberries, the muffins are lovely, with the batter cooking up light and very yummy contrasting well with the crunch of the crumble. 👍