French Toast with Cinnamon Stewed Apples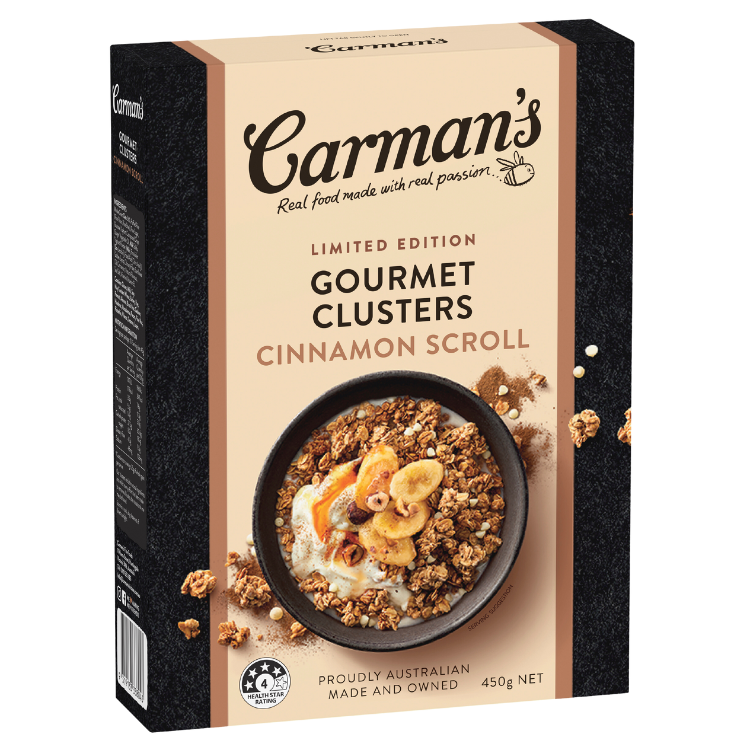 Ingredients
2 eggs
250ml milk
½ tsp vanilla bean paste
1 tbsp caster sugar
Pinch of salt
½ tsp ground cinnamon
½ tsp ground cinnamon
2 damper buns, halved (or substitute with plain, soft white rolls)
1 tbsp butter
1 tbsp grapeseed oil
40g butter
2 green apples, peeled, cored and cut into 0.5cm thick wedges
1 tsp cornflour whisked with 60ml water
1 tbsp brown sugar
½ tsp cinnamon
Carman's Gourmet Clusters Limited Edition Cinnamon Scroll,to serve
Method
Preparation time: 15 mins
Cooking time: 5 minutes
Serves: 2
For cinnamon-stewed apples:
Heat butter in a large, heavy-based saucepan over medium heat.
Add apples and cook, stirring constantly, until the apples are almost soft.
Add the cornflour water, sugar and cinnamon, bring to the boil and stir for a further 2 mins until thickened.
For french toast:
Whisk together eggs, milk, vanilla bean paste, sugar, salt and cinnamon.
Soak each bun half in the mixture for 20 seconds, pressing down gently to ensure each side is soaked.
Heat butter and oil on a large frypan over medium heat until foamy.  Then, add the soaked rolls, frying for 2-3 mins each side until golden.
To serve, top with stewed apples and a generous scattering of Carman's Gourmet Clusters Limited Edition Cinnamon Scroll.