Easy Yoghurt & Crunchy Clusters Parfait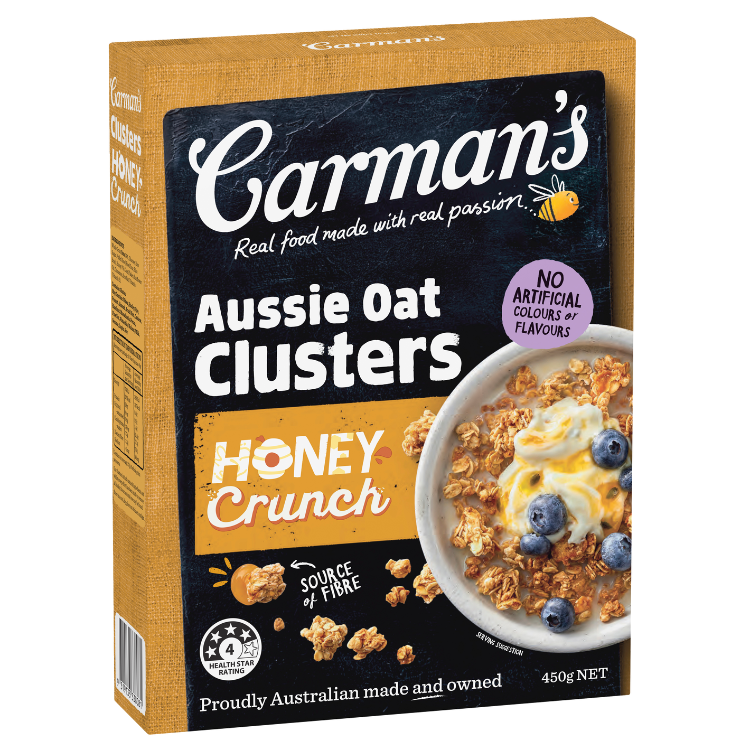 Ingredients
1 1/2 cups Greek yoghurt
1 cup Carman's Honey Crunch Aussie Oat Clusters
1 cup Blueberries (or berries of your choice)
1 cup Raspberries (or berries of your choice)
1 small Nectarian (chopped)
1 tbsp. Honey (Optional, for drizzling on top)
Method
Preparation time: 5
Cooking time: 0
Serves: 3
A Creamy Berry Yoghurt Parfait, layered with Greek Yogurt, berries and stone fruits and topped with Carman's Crunchy Clusters. Perfect for a Healthy & Colorful Morning Breakfast!
Making this easy yoghurt and Clusters parfait is as easy as 1, 2 3:
Into a serving glass or jar, spoon 1/2 cupy Greek yoghurt as the base into each of your three glasses or jars.
Top with a layer of fruits of your choice.
Top with clusters and garnish with more fresh fruit if you wish! Optional drizzle of honey on top for some extra sweetness.