Chai Infused Bircher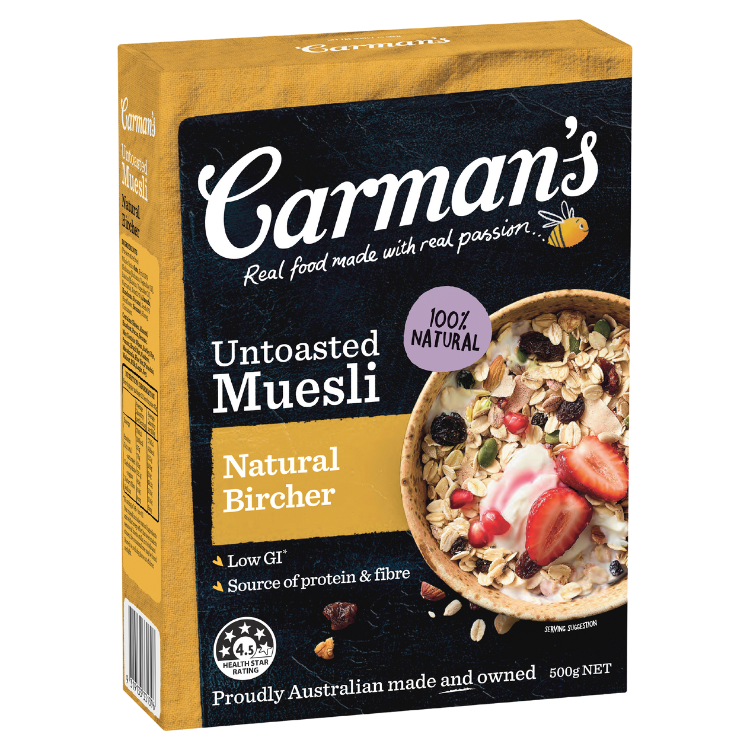 Ingredients
9 cardamom pods, bruised
1 cinnamon stick
5 whole cloves
1 tsp black peppercorns
1 cup water
2 cups milk
1 tsp honey
500g Carman's Natural Bircher Muesli
1kg natural yoghurt
1 Granny Smith apple, grated
to taste, honey
50g brown sugar
1/2 tsp vanilla essence
2 tbsp hot water
2 bananas, peeled & sliced
1 cup pecans
50g butter
Method
Preparation time: 20 mins
Cooking time: 10 mins
Serves: 11
Place cardamom pods, cinnamon stick, cloves, black peppercorns and water in a saucepan and bring to the boil.
Reduce heat to low and simmer slowly for 5-8 minutes or until flavours develop.
Stir milk and honey through and set aside to cool.
Combine Natural Bircher Muesli and remaining ingredients together in a large bowl.
Pour in the chai infused milk and stir to combine.
Cover and refrigerate overnight.
To make the caramelised bananas & pecans, heat the brown sugar, vanilla essence and hot water in a pan until it forms a thick caramel.
Add the banana and pecans to the pan and shake to coat.
Add the butter to the banana and pecan mixture and heat for a further 2 mins.
Top the chai infused bircher with the caramelised bananas and pecans.