Baked Apples & Crunchy Clusters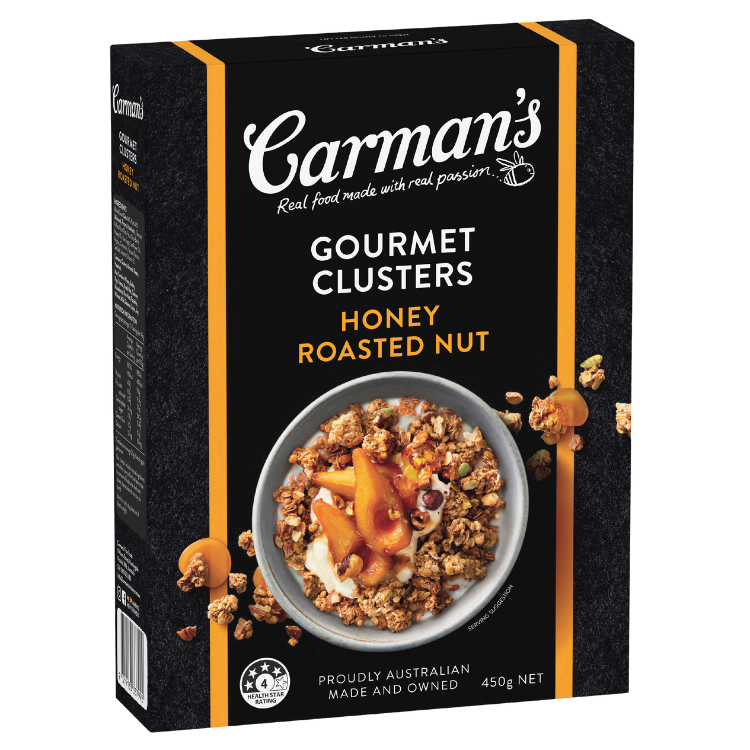 Ingredients
4 large baking apples
1/3 cup old fashioned oats
1/4 cup chopped pecans
1/4 cup raisins, dried cranberries or other dried fruit, roughly chopped
1/4 cup coconut sugar
1 tsp. ground cinnamon
1/4 tsp. ground nutmeg
2 tbsp. butter or ghee, melted
3/4 cup apple cider or apple juice
1/2 lemon, cut into wedges
1 cup Gourmet Clusters Honey Roasted Nut (to top)
Method
Preparation time: 15 mins
Cooking time: 45 mins
Serves: 4
Once the fall season hits, nothing tastes better than a classic, warming recipe. For us, that's baked apples, because we love filling the house with that cinnamon apple aroma.
But the best part is that baked apples taste just like an apple pie, with only half the effort to make. All you have to do is scoop, stuff, and bake – it's incredibly easy. And oh, so scrumptious.
Create cinnamon oat mixture. Mix together the oats, pecans, dried fruit, cinnamon, nutmeg, and melted butter in a bowl.
Core the apples. Squeeze a bit of lemon juice over the apples. Then using a melon baller or knife, scoop a cavity that's an inch or so wide.
Peel the top skin. Use a paring knife to remove 1/2″ of the apple's skin on top to prevent it from bursting.
Fill in the good stuff. In a baking dish, stand the apples upright and stuff with the cinnamon oat mixture.
Pour and bake. Pour the apple cider into the pan and bake for about 45-60 minutes. Remember to baste them a few times!
Serve hot. You can pour the syrupy liquid over the apples, top with Crunchy Clusters or top it with ice cream.