5 Easy Warm Brekkies for Winter
Waking up on a chilly winter's morning is so much easier when you know you can look forward to a delicious, filling brekkie. These simple recipes use the power of whole grain oats and basic, fresh ingredients to take warm breakfasts to the next level.
Apple, Sultana & Cinnamon Oat Mug Muffins
Breakfast for one? These microwave-able Mug Muffins are a real game changer! They use only a few, simple ingredients from the pantry, take under 5 minutes to make and are super customisable. We've used our No Added Sugar Apple, Sultana & Cinnamon Porridge Sachets, however once you've got this base recipe down, you can swap in our other flavours for a little variety.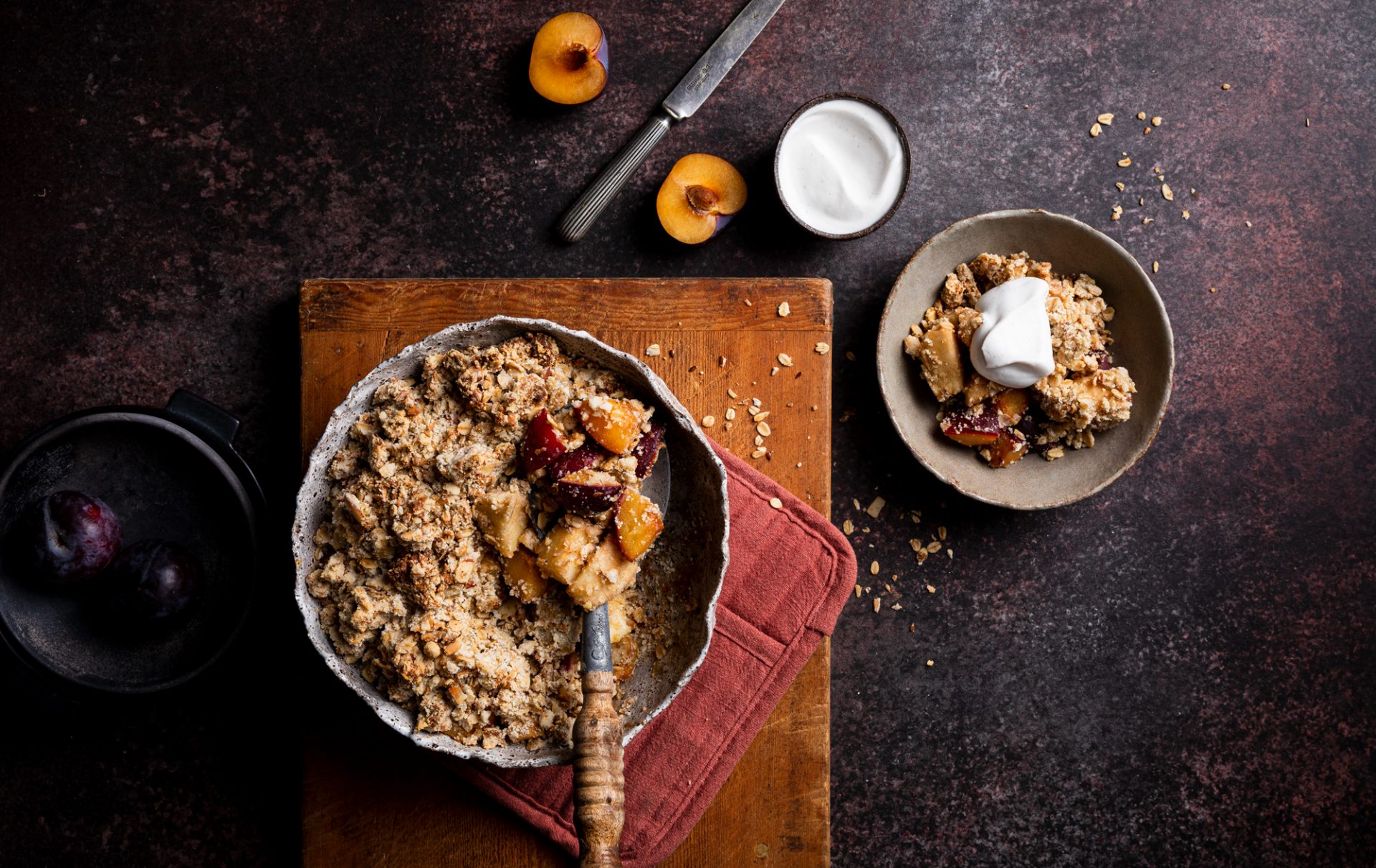 We know what you're thinking… crumble for breakfast? Surely this mouth-watering dessert should be enjoyed a little later in the day? Most certainly. But don't discount it for brekkie either! This recipe uses only natural, fresh fruit, our No Added Sugar Almond, Cashew & Coconut Muesli and coconut yoghurt (instead of  cream) to create a better-for-you spin on a cozy classic.
When you hear 'savoury porridge', your mind may immediately jump to congee – a rice porridge popularly consumed in South East Asia made with anything from fish sauce to kimchi. Or, the idea may sound just completely left of field! However, don't be deceived… The humble oat has just as much savoury potential as rice, thanks to its varied texture and slight nuttiness. We've use our No Added Sugar 5 Grain & Super Seed Porridge which throws some seeds into the mix too. The best part about this porridge is that it gives a great opportunity to add some veggies to a mid-week brekkie, as well as limit sugar intake.
Mornings are a great time to load up on fibre, waking up your digestive system so you can get a kick-start on the day! Due to their whole grain oats content, Carman's porridges can serve as a good base for creating a fibre-filled brekkie. This delicious recipe combines tangy fresh raspberries with Carman's Fibre Rich Creamy Honey & Almond Porridge, scattered with figs and pistachios for a gourmet touch.
Natural Grain & Super Seed Baked Oats
Breakfast baked fresh from the oven? It sounds indulgent, but we promise these Baked Oats are so easy to make, they may become your next winter staple.  They only use five ingredients, take five minutes to prep and will keep you filled up all morning. Our Natural 5 Grain & Super Seed Porridge does the heavy lifting in this recipe, adding a medley of seeds for texture. These baked oats are also a low-sugar go-to! If you forgo the dark choc drizzle then you've got yourself a delicious baked breakfast with absolutely no added sugar!
And there you have it! Our fave 5 recipes for making a simple breakfast just that extra bit more special… What are your favourite ways to jazz up the most important meal of the day?