Muesli Bars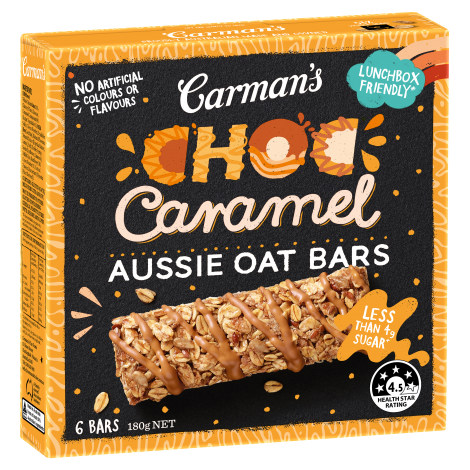 Choc Caramel Aussie Oat Bars
Carman's Choc Caramel Aussie Oat Bars are a deliciously good-for-you energy boost for when you're on the go, go, go! These 100% Aussie oats are packed with lip-smacking ingredients and topped with creamy choc drizzle for an extra touch of YUM!
Fruit Free
GM free
No Added nuts
Nutritional information
Servings per package: 6  Serving size: 30g
CONTAINS: GLUTEN (OATS), SOY AND MILK PRODUCTS.
MAY BE PRESENT: OTHER GLUTEN-CONTAINING CEREALS, PEANUTS, TREE NUTS, SESAME SEEDS, AND LUPIN.
Ingredients
(GM free)
Whole Grain Oats 53%, Chicory Fibre, Glucose, Caramel Compound 6% (Sugar, Vegetable Oil, Milk Solids, Cocoa Powder, Emulsifier [Soy Lecithin], Natural Flavours, Natural Colours [Paprika Extract, Lutein], Salt), Golden Syrup, Seeds (Sunflower, Linseeds), Puffed Rice, Sunflower Oil, Cocoa Powder 1%, Natural Flavour, Humectant (Glycerin [Plant Derived]).