Bliss Balls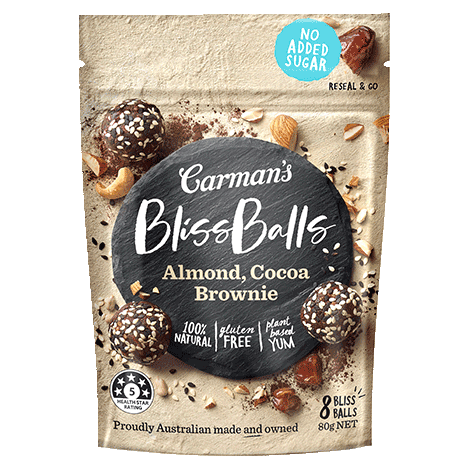 Almond, Cocoa Brownie Bliss Balls
These super bites of bliss are jam-packed with crunchy almonds and super seeds, a natural energy pick-me-up that's honest and real. Deliciously good for you and so easy to graze on-the-go.
Gluten Free
Vegan
Nutritional information
Servings per package: 4 Serving size 20g
Suitable for a vegan diet.
CONTAINS: ALMONDS, CASHEWS AND SESAME.
MAY BE PRESENT: PEANUTS AND OTHER TREE NUTS.
Ingredients
(GM free & Preservative free)
Dates 68%, Almonds 14%, Seeds (Black & White Sesame Seeds, Linseeds, Sunflower Seeds), Cashews, Cocoa Powder 5%, Natural Vanilla Flavour.
naturally sweetened with fruit